And she gave birth to her firstborn son and wrapped him in bands of cloth, and laid him in a manger, because there was no place for them in the inn."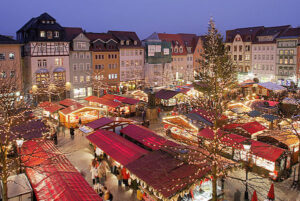 In the first stave of Charles Dickens' classic story, A Christmas Carol, Ebenezer Scrooge didn't have much enthusiasm for Christmas, to say the least. "If I could work my will," said Scrooge indignantly to his nephew, Fred, "every idiot who goes about with 'Merry Christmas' on his lips should be boiled with his own pudding, and buried with a stake of holly through his heart."
Fred was understandably horrified. "Uncle!" he exclaimed, to which Scrooge replied, "Nephew! . . . keep Christmas in your own way, and let me keep it in mine. "
"Keep it," Fred responded, "But you don't keep it."
"Let me leave it alone, then."
Indeed, Ebenezer Scrooge did not keep Christmas well, at the beginning of Dickens' "Ghostly little book," that is. Yet, by the end of the carol, Scrooge promised, "I will honour Christmas in my heart, and try to keep it all the year." Indeed, he did. The final paragraphs of A Christmas Carol report that Scrooge "knew how to keep Christmas well, if any man alive possessed the knowledge." To this Dickens adds, "May that be truly said of us, and all of us!"
To that I say, "Amen!" Wouldn't it be wonderful to keep Christmas well, not just on one special day or during one special season of the year? Shouldn't we who profess to follow the One whose birth is celebrated on Christmas live in light of its reality "all the year"?
When I follow Charles Dickens in speaking of "keeping Christmas well," I'm not thinking of decorations, gifts, and parties, though I have nothing against these. Rather, I'm thinking about living in light of the reality of Christmas, namely, the birth of the baby Jesus. As it says in Luke 2:7, "And she gave birth to her firstborn son and wrapped him in bands of cloth, and laid him in a manger, because there was no place for them in the inn." This is the essential core of Christmas. Mary gave birth to Jesus, the one who, as the Messiah, would save his people from their sin, the one who was Emmanuel, "God with us."
What would it be like to keep Christmas well, really to keep Christmas well, not just in this season of the year, but throughout the year? What would it be like to keep Christmas well as we go about our lives as workers, bosses, artists, spouses, parents, citizens, church members, and friends?
In the days to come, I'm going to devote twelve devotions to the idea of keeping Christmas well. I'm going to take my lead from none other than Ebenezer Scrooge, noting what he did as he began to keep Christmas well. Each devotion, as usual, will be guided by a passage from Scripture, with dear old Scrooge as an illustration of biblical truth.
At this time, I would invite you into a time of discovery. Join us as we consider how we might live each day in light of the Incarnation of the Word of God, thus keeping Christmas well.
QUESTIONS TO CONSIDER:
When you think about keeping Christmas well, what comes to mind?
How might your life be different if you lived in light of the birth of the Messiah, the Word Incarnate? What difference might there be in your work? Your home? Your neighborhood?
PRAYER:
Gracious God, as we begin this devotional series, teach us what it would mean for us to keep Christmas well. Inspire us by your Spirit to live the reality of Christmas each day, wherever we are and whatever we're doing.
All praise be to you, O God, because you came in the flesh for us! Amen.